Completion Photography, Hotel/Commercial Property Photography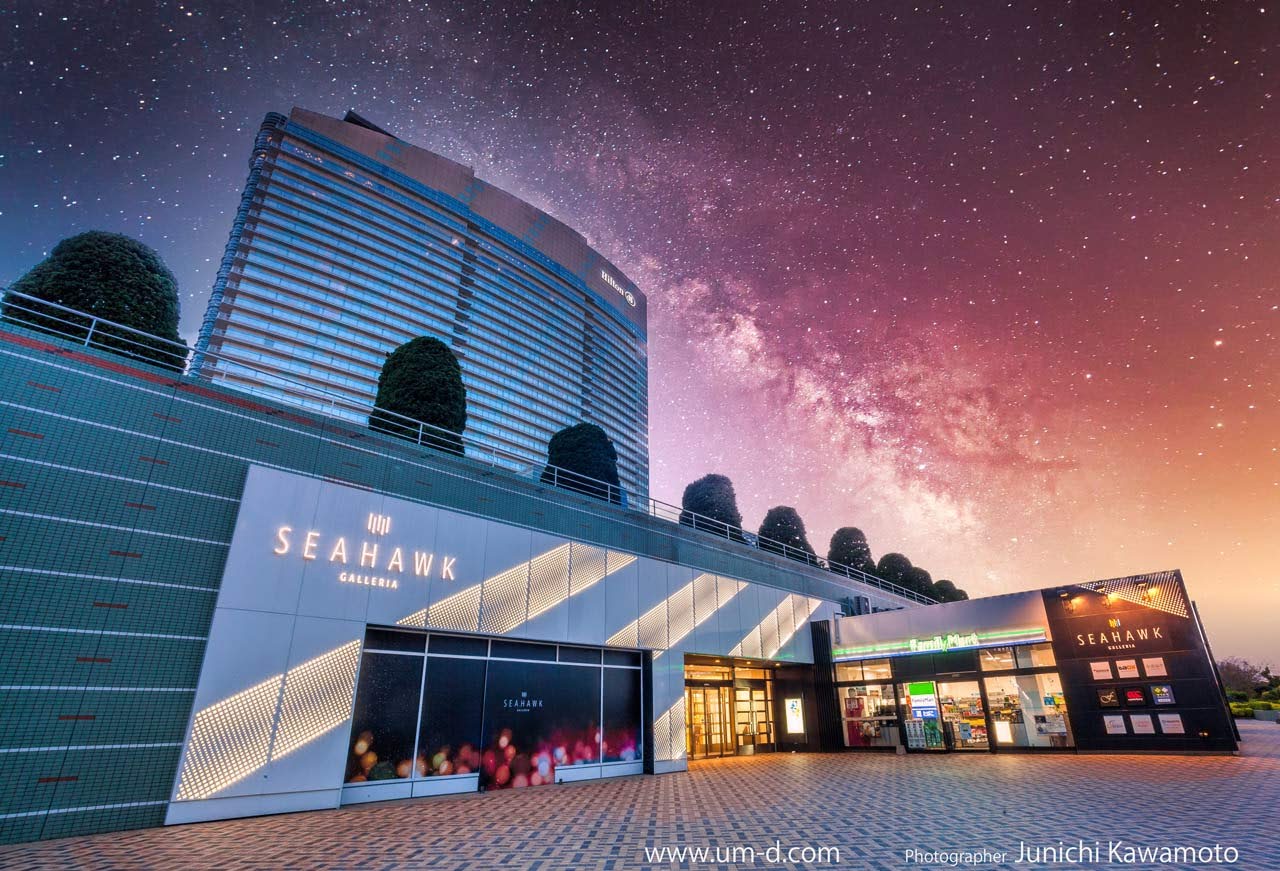 This photo has not been corrected for perspective distortion. It was personally taken after an event and post-processed.
 Photographer Junichi Kawamoto

Catering to clients seeking affordable budget for construction photography and advertising purposes.
I can capture images and provide editing services from start to finish.
Before-and-After Examples of Exterior Photo Retouching: "In Progress" and "Original Photos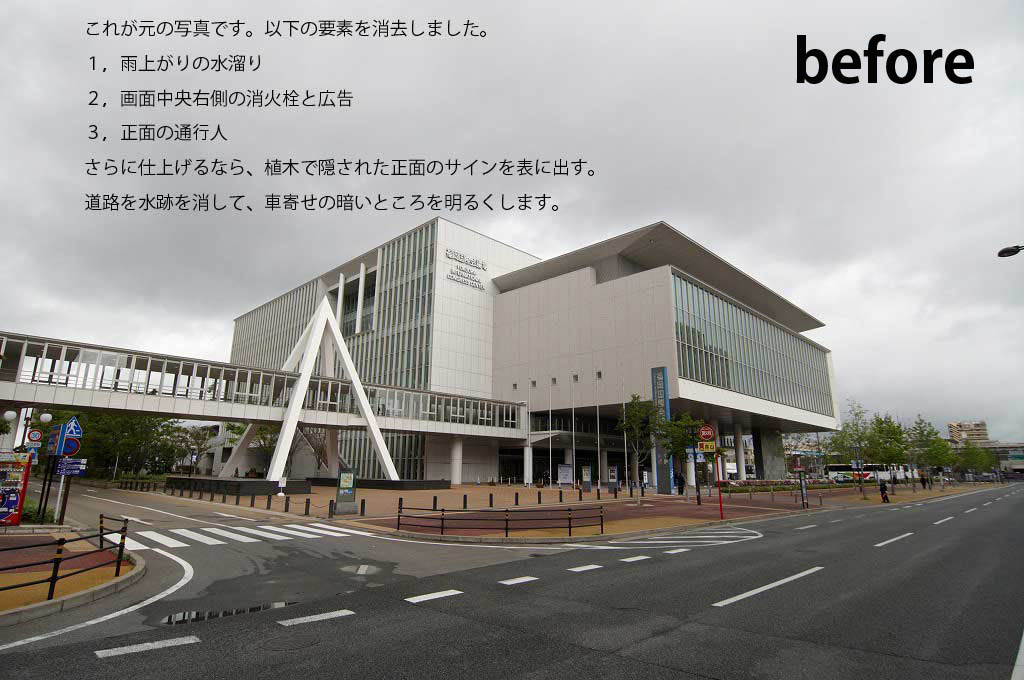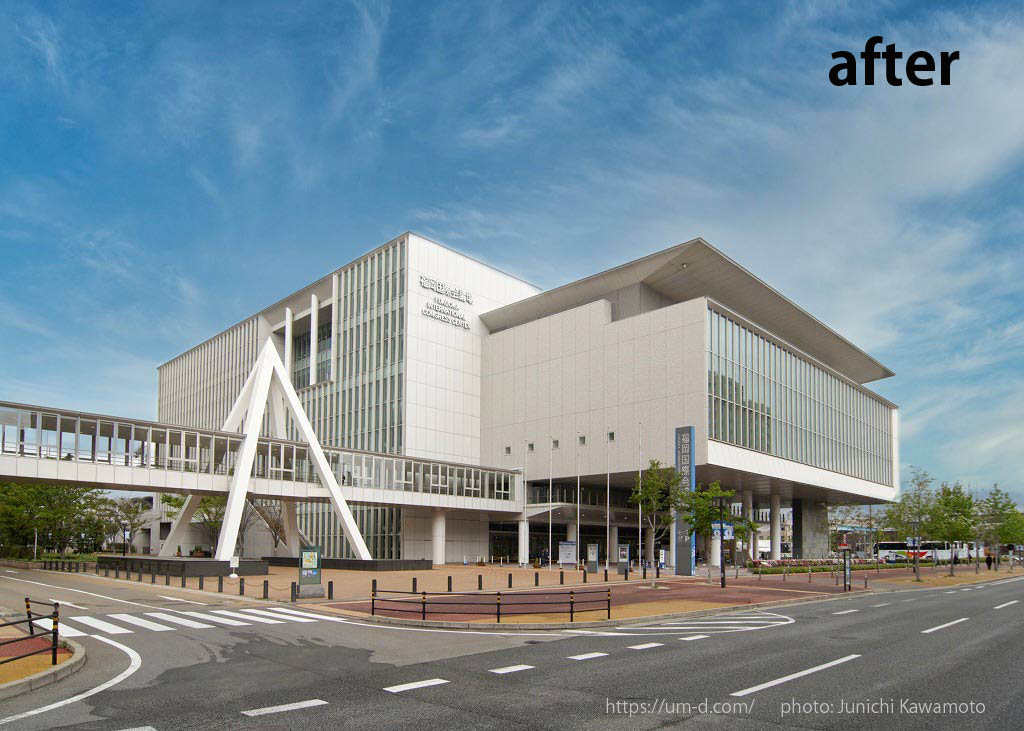 Slide left and right to see the before-and-after photos.
I retouched the venue photos taken for the academic conference.
The following elements were removed or corrected:
Puddles on the ground after the rain
Red fire hydrant and advertising sign on the right side of the screen
Pedestrian in front of the building
Perspective correction and trimming To complete the retouching, I also revealed the sign that was hidden behind the bushes in the front. Additionally, I removed water stains on the road and brightened the dark area near the parking lot.
Providing Photography Techniques
I use normal ultra-wide lenses and digital correction for my photography. I do not use traditional film cameras and architectural shift lenses.
By the way, perspective correction (shift) works the same way for both film and digital photography. If I take a photo from the same position, there is no difference in perspective between "shift lens correction" and "digital correction".
With digital photography, I can perform corrections to a level that was impossible in the film era.
Project Examples: Construction Photography for Advertising and Architectural Materials
(list in random order)
■Photography of construction featured in Nikkei Construction magazine
■JR Hakata City Amu Plaza Hakata, both at the time of opening and renovation (completion photos for advertising purposes)
■Hilton Fukuoka Sea Hawk (completion photos for advertising purposes)
■Grand Hyatt Fukuoka (tenant)
■Interior website photos of hotels (with perspectives and models)
■Newly built interior of a general hospital
■Private medical clinics
■Architectural perspective photography of renovation for Fukuoka Daimyo The Villas
■Case study of new energy server installation on the 1st floor of Fukuoka Momochi Hamam M-Tower
■Completion photos of tenants in multiple Aeon Malls in Kyushu (gourmet, fashion)
■Tenant photos at the time of Fukuoka Parco opening
■Completion photos of fashion brand stores
■Completion photos and homeowner album of designer architecture (single-family homes)
■Booth photos for exhibitions at Marine Messe and Fukuoka International Conference Center (for advertising purposes)
■Interior perspective photos for advertising in bridal magazine "Zexy"
■Construction records (technical images) for construction methods manuals
■Completion photos of newly built street-level stores.

Shooting Area: Map of Surrounding Areas
My main focus is commercial photography, and I travel to various locations including Kyushu, Kansai, Okinawa, and Shikoku.
The base is located within a 5-kilometer radius of the central districts of Fukuoka, such as Tenjin, Daimyo, JR Hakata Station, and Fukuoka Airport.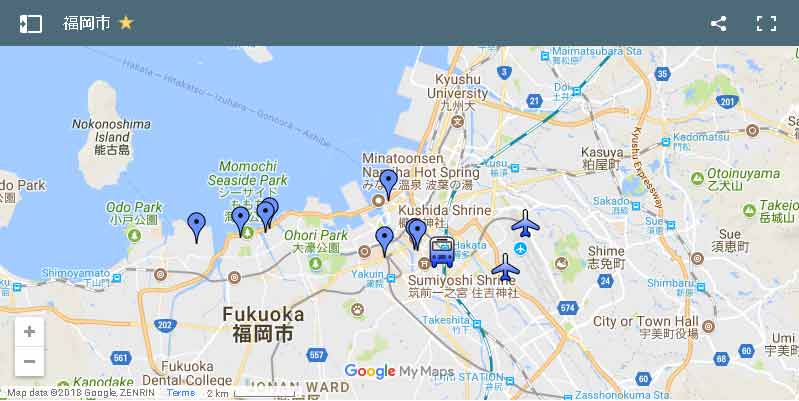 ---